Selling Your Home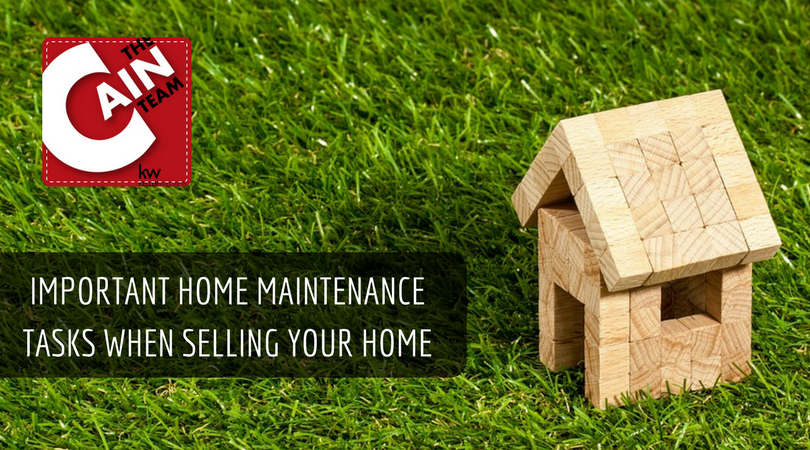 The home selling process has a ton of different steps and precautionary items needed to ensure a smooth and seamless transaction. It can be overwhelming, but if you're lucky and have an amazing team to take you along for the ride it can be as easy as 1-2-3! Here at Cain Realty Group, we want to be there for every step of the process in order to give you the highest level of service when you sign with our team.
Providing you with all the information you need to have a seamless transaction is important to us, therefore, we don't want to leave anything out. There is one thing in particular that can easily get lost in all confusion of the transaction, that is a vital aspect of the success of the sale.
Being a homeowner comes with a long list of maintenance to-do's and commitments to ensure the property is in tip-top shape throughout the transaction. We've got news for you, just because you're selling doesn't mean you are off the hook from routine maintenance tasks. Keeping up with these tasks can help you avoid a mess of catastrophic issues that can arise down the line and devalue your property resulting in a possible derail of the sale.
To prevent from a world of possible issues by focusing on these four important areas to maintain your property until the final sale.
1. Keep up the landscape
Whether you're still living at the home or not, you'll want to make sure to keep your landscaping tidy—remove dead tree limbs, rake leaves, and clean out flower beds. Aside from the cosmetic reasoning behind keeping the outside of your home tidy, it is important to keep possible vandals away. If your home is vacant, has a 'for sale' sign, and looks neglected, it is as if you are placing a bulls-eye on your home for vandals to break into your property.
...
When it comes to energy efficiency, look for smart features and expertise to help you save energy and money and add value to your home.
1. Begin with a Right-Sized Home.
If the home you buy is simply too large for you or your family's needs or plans, you stand a good chance of wasting energy through excessive heating and cooling costs. If it's too small, you'll feel cramped and uncomfortable. It's a big investment, so seek balance and buy it "right" from the outset.
2. Purchase Energy Star Appliances Such as Your TV, Dishwasher, Washer and Dryer, and Microwave.
And especially the refrigerator, as it alone contributes about 10 percent of the energy use in a home. Also, unplug electronics not in use or turn off power strips to avoid phantom charges.
3. Install Efficient Lighting Such as Compact Flourescent (CLF) or LED Bulbs in Every Fixture.
Lighting accounts for about 6 percent of an energy bill each year.
4. Get an Energy Audit and Have Tests Performed to Identify Ways of Improving Your Efficiency.
You can always upgrade your heating, ventilation, and air conditioning (HVAC) system as well as your thermal envelope, which includes insulation, windows, and doors and the seals or weather stripping around them. Visit energy.gov/energytips for more tips.
...